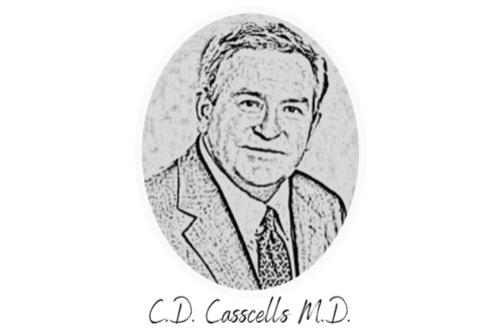 Benefit/Cost Analysis for Mask Mandates
Very little benefit in stopping/slowing the "spread." Very high costs to K-12 student mental health, social health, and developmental health.
by C.D. Casscells, M.D. (pictured), Center for Health Policy (February 2, 2022)
We've looked everywhere to try to find scientific studies that support the use of face masks for stopping the spread of COVID and its variants, Delta and now Omicron. We reviewed months of the Centers for Disease Control (CDC) websites reports and guidance....no luck. There is simply no evidence that putting face masks on children does anything but harm them, especially those under six years old.
There is a large body of data, referenced by the CDC that says schools are not a source of outbreaks in the community, but rather reflect the outbreaks in the community that are smaller outbreaks with fewer symptomatic children and adults, almost no hospitalizations and deaths, and virtually no transmission from children to adults.
Please feel free to read the latest CDC update in detail from December 17, 2021, with its 105 references as we have done. There is contained within that document a recommendation that children as young as two years old wear masks, WITHOUT ANY DOCUMENTATION, REFERENCE, FOOTNOTE, OR DATA to substantiate that guidance. Nevertheless, the echo chamber of public health officials cites that one sentence repeatedly as a justification for masking toddlers.
After two years of the pandemic, here's what we know about face masks.
The favorite for most folks and particularly those in customer-facing jobs like the WAWA or supermarkets or restaurant servers is the cloth mask mainly because it's comfy, washable, breathable, and clearly a fashion statement. As to their effectiveness: practically zero because the viral particles pass right through it in both directions. Double and triple layer cloth masks merely harbor additional venues in which bacteria can multiply.
Next is the inexpensive pale blue/white disposable so-called paper-like surgical mask that boasts better blocking properties than the cloth variety; however, you cannot breathe through them but have to breathe around them, and they catch spit.
Now, the Biden Administration has announced 400 million free (max three per person) non-surgical N95 masks that actually have a much smaller pore size than cloth masks but are not small enough to effectively stop the spread via respiratory system. (Three N95 masks will technically last less than one day when used and disposed of appropriately. Reuse it, and you are harming yourself and others.)
While there is data that demonstrates the ineffectiveness of masks, there is also data that shows the high costly and destructive impact of mask mandates, social isolation, substance abuse, and lockdowns in general: elevated suicide rates, particularly among young girls, elevated levels of depression, high stress. A quick search of "covid related depression and suicide" yields hundreds of academic papers, studies, meta-analyses, and other data. All of these avoidable outcomes are largely centered in the youth population ages 3 to 15, the age group least susceptible to getting or transmitting COVID.
We strongly urge Governor Carney to reverse the school and indoor mask mandate since it is not slowing the spread of Omicron and is causing a lot of damage to the population and to businesses.
The most critical first move is to stop masking toddlers, then cease the mandate for K-12 schools where the damage caused is the worst. Why persist in harming children who pose no risk to themselves or others from Covid? Let the parent decide if they wish to mask their children. There may be obscure reasons for masking, such as signaling that a child is immune-compromised and you should keep your distance. The mask itself is not really protective.
We understand the need to DO SOMETHING in our leaders, so continuing mask mandates allow the perception of leadership, however misguided. At the very least, it would be a bold step towards restoring hope and sanity to a world needlessly wreaked by fear and anxiety.
(Recommended reading: The Atlantic on January 26, 2022, "The Case Against Masks at School" by infectious-disease scientist Mergery Smelkinson, Leslie Bienen, and Jeanne Noble, M.D. The article documents the shocking lack of evidence for the masking of schoolchildren, especially those younger than six, with grave warnings about the growing body of evidence of harmful unintended consequences from masking.)