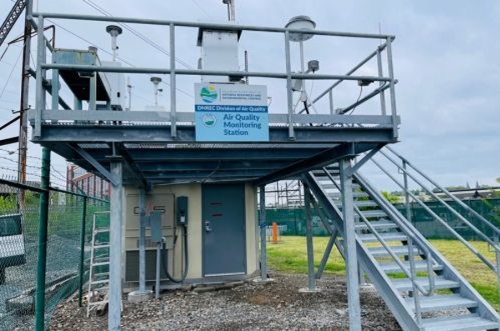 Misusing Air Pollution for a Federal Money Grab
By David T. Stevenson, Director
Center for Energy & Environmental Policy
(Photo Source: DNREC)
June 8, 2023
The misnamed federal Inflation Reduction Act provides billions of dollars in subsidies, including money set aside for low-income minority neighborhoods. A White House fact sheet about this "Act" claims these neighborhoods are unfairly impacted by higher levels of air pollution and climate change and need more money to meet Environmental Justice goals.
The federal "Act" provides funds to establish additional air quality monitoring stations near the fence lines of industrial facilities to prove the unfair treatment.
In Delaware, ALL official air pollution monitoring stations currently meet air pollution standards set to ensure public health.
Delaware has received federal funds to add new air pollution monitoring stations. Two stations will be placed near Claymont and the Route 9 corridor through Wilmington, and two to three new stations in rural areas near poultry facilities. The siting decisions (station operation and data publication) will be controlled by "citizen-based" nonprofit organizations.
Current official air quality monitoring stations must meet a high level of siting and monitoring standards, which most likely will not be met by these "citizen-based" groups. For instance, the monitoring stations near poultry facilities will be controlled by the Socially Responsible Agriculture Project, an organization dedicated to ending "factory farming." This sets up potentially highly questionable data results.
A Rhode Island Department of Environmental Management study using similar non-standard equipment showed higher air pollution in one urban area along the I-95 corridor as evidence of the impact of motor vehicle traffic. Air quality monitors were stationed from a few feet of the roadway, with several others at 40-100 feet away.
The
EPA Quality Assurance Handbook
requires stations to be setback at least 325 feet for ozone and 520 feet for fine particles when urban daily traffic counts exceed 70,000 vehicles/day, as seen in the test areas around Providence, RI.
The simple reason is pollution dispersion occurs rapidly with distance and is not representative of what people actually experience.
The RI study proves that point, with average concentrations of volatile organic compounds and fine particle concentrations dropping in half just 40 feet from the highway. Fine particle pollution peaked at 1.6 µ/M3 at 40 feet, only 13% of the air quality standard, meaning there is little health risk. We note the fine particle pollution peaked at 6 a.m. to 7 a.m., which the study noted was near morning traffic rush hour. However, there was no similar peak for the evening rush hour. The morning peaks were seen during late fall and winter when building heating systems are kicking on, which may account for the peaks.
Similar morning peaks on cold days are seen in official station data in Delaware. The monitoring data may be used, according to the White House fact sheet, to:
Require replacement of heavy-duty diesel vehicles with expensive electric-powered vehicles, including busses and over-the-road trucks.

Require zero-emission vehicles at ports such as the already financially challenged Port of Wilmington.

Require limits on construction activities such as the redevelopment of the Claymont Steel Mill.

Shut down parts of Delaware's $3 billion-a-year poultry industry.

Remove the section of I-95 that goes through the center of Wilmington.

Pay for appliances, heat pumps, EV charging, and rooftop solar.
While the State's initiative may seem innocuous, it could result in considerable misuse and abuse.