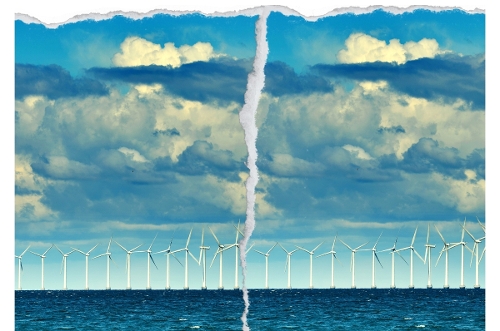 We Oppose Delaware Offshore Wind because it's Expensive, Unreliable, and Threatens the Natural Environment
In a recent announcement, NJ League of Conservation Voters' Executive Director, Ed Potosnak accused the Caesar Rodney Institute of running a "misinformation campaign" against offshore wind.
In the spirit of information, we visited the NJ League of Conservation Voters' Gala website so that we could understand who was backing their organization. We found that Mr. Potosnak shouldn't be throwing stones when it comes to casting aspersions about funding and influence.
We found that Mr. Potosnak's organization has impressive backing from in and out-of-state/country businesses and special interests that will benefit from the policies he promotes in the name of NJ residents. The list includes:
Neste-an oil refining and marketing company based in Finland,
Attentive Energy, a subsidiary of Texas-based Total Energies US, is developing an 84,332-acre wind farm 42 miles off of the NJ shore,
Ocean Wind 1, an Ørsted and PSEG project, is located 15 miles off the coast of southern NJ. Curiously, their Platinum level sponsor.
CRI's History w/Offshore Wind
In 2019, a small group of concerned beach property owners from Fenwick Island, DE, contacted CRI asking for help. They had heard of a rapidly developing offshore wind project being built off their coast and wanted us to look into how it would affect them. The initial research uncovered some disturbing facts.
First, the Maryland Public Service Commission approved two offshore wind projects that were being built off the coast of Delaware and Maryland.
Second, although it would be off Delaware's coast, Delaware government officials or residents were not part of this offshore wind project discussions.
Third, the electricity being produced by the offshore wind would go to Maryland residents and NOT Delaware residents. The substation, however, would be housed in Delaware.
Our residents became concerned with this news and decided other property owners who did not live here year-round needed to know what was happening. So, Save Our Beach View was formed as a special project of CRI and solely funded by the Delaware beach property owners.
We had also discovered that under the radar, several "offshore wind" ocean lease areas had been sold to European developers along the East Coast. Word quickly spread throughout the internet about Save Our Beach View. We received many calls and emails from other beach communities up and down the Atlantic coast and organizations who had heard about offshore wind development in their town.
Realizing that we were facing something larger than just a Delaware issue, we formed ACOP (American Coalition for Ocean Protection), a community network where concerned beach communities and non-partisan think tanks can ask questions or share information relevant to offshore wind.
Today, several beach communities and organizations have filed lawsuits against Offshore Wind Developers and BOEM

(Bureau of Ocean Energy Management)

for various reasons. CRI is not involved in any of these lawsuits-other than the information we provide to help with their initial inquiry. In addition, ACOP created an Ocean Legal Defense Fund (OLDF) to help pay for some lawsuits, and 100% of the OLDF are donations from individual donors.
Setting the Record Straight
CRI's offshore wind research analyzes the high costs associated with offshore wind development. We oppose offshore wind because we favor lower energy costs and would like more environmentally friendly options.
CRI is NOT a fossil fuel-funded think tank. We receive donations from donors who agree with our policy recommendations, including about 1% of our total donations from the oil industry-again; given the donors that we know of to the NJ League of Conservation Voters, it is perhaps their group that should be classified as a fossil fuel and industry-funded organization. Supporters of CRI do not influence CRI's fact-based, well-researched policy conclusions. Donations from thousands of individuals have been the "sole source" of funding for this research.
We represent a community of citizens who ask, is "offshore wind" the key component to combating warming temperatures?
Our research is not alone in indicating that offshore wind farms are proven to be an expensive and unreliable alternative energy source. When considering the benefits and drawbacks, offshore wind farms create more harm than good to our environment.
Let's collectively work together, look at carbon capture, advanced nuclear power, and other technologies, and stop using ad hominem attacks against one another.