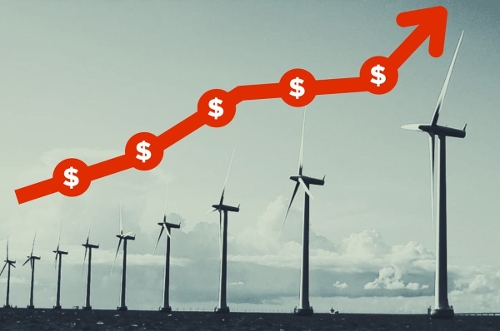 Headwinds: Troubles Grow for Offshore Wind
Some projects will not be able to attract financing.
By David T. Stevenson, Director
Center for Energy & Environmental Policy
March 14, 2023
Offshore Wind Developers work to temper opposition by creating an impression their projects are done deals. Certain states and the federal government under President Biden pump out project prices and permit approvals at a rapid pace.
However, turbine manufacturers are losing money and raising prices, multiple lawsuits plague approvals as federal permitting agencies act like offshore wind advocates and enablers instead of environmental protectors, and it looks like approved state price guarantees are too low to entice project financiers.
Turbines destined for US offshore wind projects will likely be produced in Europe. Siemens Gamesa exited the European stock exchange after losing $1 billion in the 4th quarter of 2022. The company stated the loss came from higher-than-expected warranty repair costs from failed turbine parts.
Besides the cost, this doesn't speak well for product durability, with turbines expected to last 20 to 30 years. Vestas raised turbine prices by 22% after losing $151 million in the 3rd quarter of 2022. General Electric did not receive a single order for offshore turbines in the 4th quarter of 2022, lost a US patent lawsuit killing US sales, and lost $2.2 billion in 2022.
The Bureau of Ocean Energy Management (BOEM) is approving projects while admitting multiple major negative environmental issues exist:
Commercial fishing will abandon project areas causing financial and food security losses.
Structures will lead to radar interference, vessel collisions, and interfere with search and rescue missions resulting in possible human deaths.
Undeveloped ocean views will change to views dominated by industrial-sized turbines, possibly costing tourism jobs and lowering beach community property values.
Military operations may be harmed by radar interference impacting national security.
Scientific research will be impaired, including essential data to determine seafood take limits.
Acoustical engineers estimate operational noise will exceed the allowed range in project areas forcing whales into shipping lanes where vessel strikes are more likely.
A recent German study shows turbine wake effects change currents leading to reduced and less dense zooplankton the whales need for food. Reduced zooplankton and extended distances to find food could lead to thinner whales and less calving.
The National Marine Fisheries Service (NMFS) and BOEM admit critically endangered North Atlantic right whales will become extinct if 0.7 human-induced deaths occur each year.
Ten environmental organizations focused on whales, complained about the lack of a federal strategy to protect the endangered whales. Whales are common year round at every approved offshore wind site. NMFS states no turbines should be built within 20 kilometers of an active North Atlantic right whale and no state-approved project can meet that standard.
In March 2022, the US Energy Information Agency (EIA) estimated a project coming on line in 2027 would need levelized revenue of $105.38/MWh considering the 30% federal Investment Tax Credit. With inflation, the price estimate may rise to $116.00 in this year's EIA estimate.
Of eighteen projects with state price approval, totaling 17 gigawatts of capacity, 81% to 97% may be priced too low to obtain financing (see Table 1. below).
Mayflower Wind, Commonwealth Wind, and Ocean Wind developers have already publicly stated their guaranteed power prices may not be high enough to obtain financing. New Jersey Public Service Electric & Gas, a 25% partner in Ocean Wind, sold its interest to wind developer Ørsted over their pricing concerns.
Table 1.
Capacity and Guaranteed Levelized Revenue by Offshore Wind Project
(Red indicates price likely too low, green price may be too low.)
Note. Anderson, J. (2022, January 14). New York finalizes contracts for 2.5 GW of offshore wind power capacity. Www.spglobal.com, Engel, J. (2021, November 9). Dominion explains $10B price tag for Coastal Virginia Offshore Wind project. Power Engineering, The Dismal Economics of Offshore Wind. (2020, August 14). Manhattan Institute, Bates, M. (2021, December 21). Maryland Commission Awards ORECs to US Wind and Skipjack Offshore Energy. North American Windpower.
Other important news includes:
Three organizations

have made a joint comment on the Coastal Virginia Offshore Wind project reviewed and organized by the same legal team representing Nantucket residents in a lawsuit now before the US District Court in Boston. The retainer was the first use of funds from the ACOP Ocean Environment Legal Defense Fund.
BOEM has discontinued using a University of Delaware survey it offered as proof that tourism would not be harmed by visible wind turbines near tourist beaches. BOEM continues to make the claim but with no information that supports the claim.
The New York State Energy Research and Development Authority removed offshore wind in Lakes Erie and Ontario from consideration as it was deemed too

expensive

compared to other zero-emitting generation technology. This is the same commission that created a 20 mile turbine exclusion zone and canceled an offshore wind project off the Hamptons.
It is obvious that some of these projects will not be able to attract financing. Prospective turbine suppliers are having financial difficulties. BOEM's EIS process is seriously flawed, and the first two approved projects face lawsuits.
This reminds me of the Blue Water Wind project off the coast of Delaware. Similar troubling financial clues in 2011 led me to forecast that the project would not receive financing. Within six months the project was dead. Offshore wind is certainly not looking like a done deal.